PetSafe Automatic Ball Launcher Review | Love it or Leave it?
When we got a new puppy I quickly realized I couldn't keep spending all of my time playing with my pup just so that he wouldn't chew on things.  I started looking for passive ways to tire my pup out and this product is one of them.  This petsafe automatic ball launcher review is based on my experience using this product over the past few months.
The Pros
The petsafe automatic ball launcher does what it claims to do for the most part.  Put in the two provided tennis balls and the machine will shoot the ball for your pup to fetch.  There are some beeping audio cues that will alert when the ball is about to be thrown and when your pup is too close to the launcher for the ball to safely launch.  I've noticed my dog has picked up pretty quickly on these cues and when he hears them will come running to wait for the tennis ball to be thrown.
One of my favorite things about this product is that it takes normal size tennis balls.  My puppy hasn't broken any of the tennis balls, as I read in one petsafe automatic ball launcher review on amazon, but he has turned the fur coating into a fuzzy mess.  It's nice knowing that I can buy some normal size tennis balls as replacements without having to worry about if they'll fit or not.  I bought a pack of 12 tennis balls on amazon and they work perfect.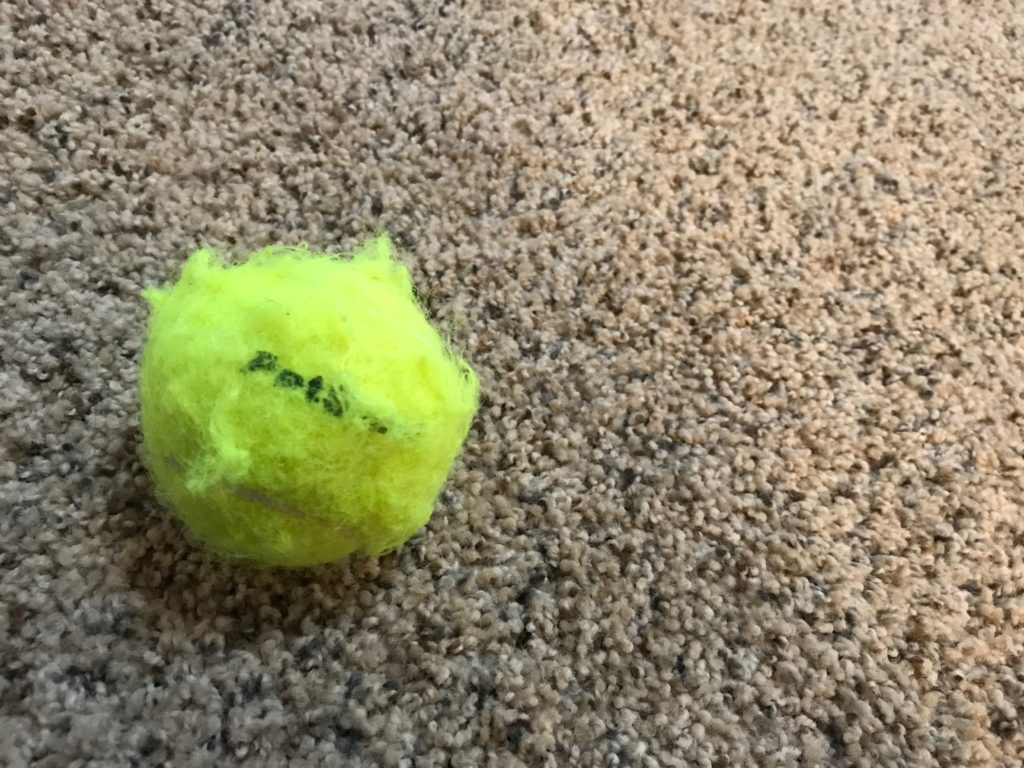 The safety feature that won't launch the ball if your dog is right in front of it is great.  It was certainly a major component in getting my wife to buy into the idea of a ball launcher in the first place.  I'd say it works the way I expect it to about 70% of the time.  See the cons in this petsafe automatic ball launcher review for more on that…
The Cons
The cons here are going to seem very numerous… but just know I'm a very analytical person and it's easy for me to see how something could better. (spoiler) We love the launcher and would recommend it so don't let the size of the cons in this petsafe automatic ball launcher review deter you from getting the launcher.
Before making my purchase I read through some other reviews and saw that some people were talking about how their puppy hated the launcher because it's so loud.  Unfortunately I ran into the same problem.  The day we got the petsafe automatic ball launcher, I plugged it in and launched a ball… My puppy ran away from it and wouldn't go within 3 feet of that thing for the next few days.  To solve this… I stuck a bunch of dog treats (we use LeanTreats which are easy to squish onto stuff) and peanut butter to the launcher.  He still didn't take to the launcher immediately, but after a few days of no use and stuck with treats, he finally went over and started eating the treats off of the petsafe automatic ball launcher.  When he didn't seem to mind the launcher anymore I put in a tennis ball.  It launched, he chased it, brought it back, and we had a great time.  Now he loves the thing.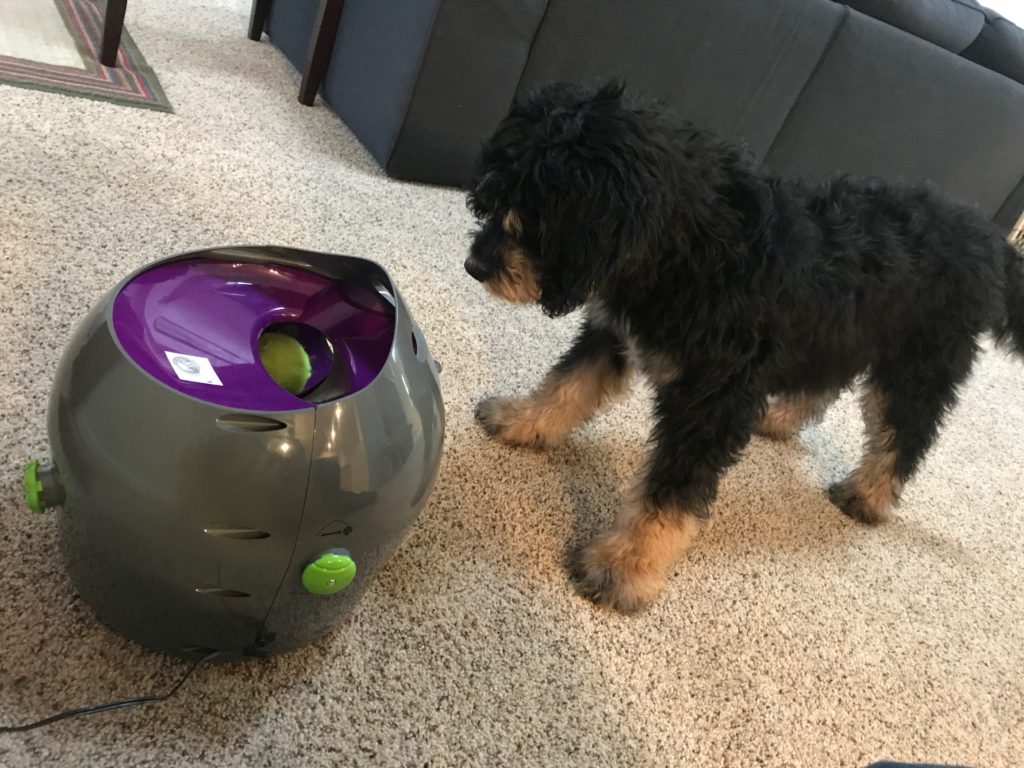 He loves the launcher so much, that even when the safety feature doesn't work (after the 2nd or 3rd time of the 'you're too close" alert sounding) and a ball launches right into his face, he still comes back for more.  He's around 30 lbs so he's not a tiny dog but he's not a large dog (yet).  This thing isn't like a pitching machine so if your pet gets hit I don't think they'd be injured unless they're very tiny or fragile.
You can adjust the distance and angle that balls will throw but the adjustment doesn't really seem to do all that much.  You can spin those little dials all you want, but there's not really a ton of difference between the max and min settings.
I'm sure it was probably easier for PetSafe to put the knobs and power where they did but it makes for an odd design functionally.  We use the petsafe automatic ball launcher inside and it's against a wall. This means that one of the knobs is against the wall… Ideally the knobs should be on the same side.  You probably won't find yourself adjusting the dials since they don't do very much, but hey… design is design.  I personally think the power should be in the back not the side.  It's a little thing, but it makes it hard to hide the cord from my dog who's looking for stuff to chew on.
My puppy has gotten into the occasional habit of  trying to steal the ball out of the launcher.  Since he likes to stand in front of it… if the ball doesn't launch he'll just stick his nose in there and grab it out.  Maybe once he's a little bigger he won't be able to do that, but for now I think it would be nice if the compartment was a little deeper.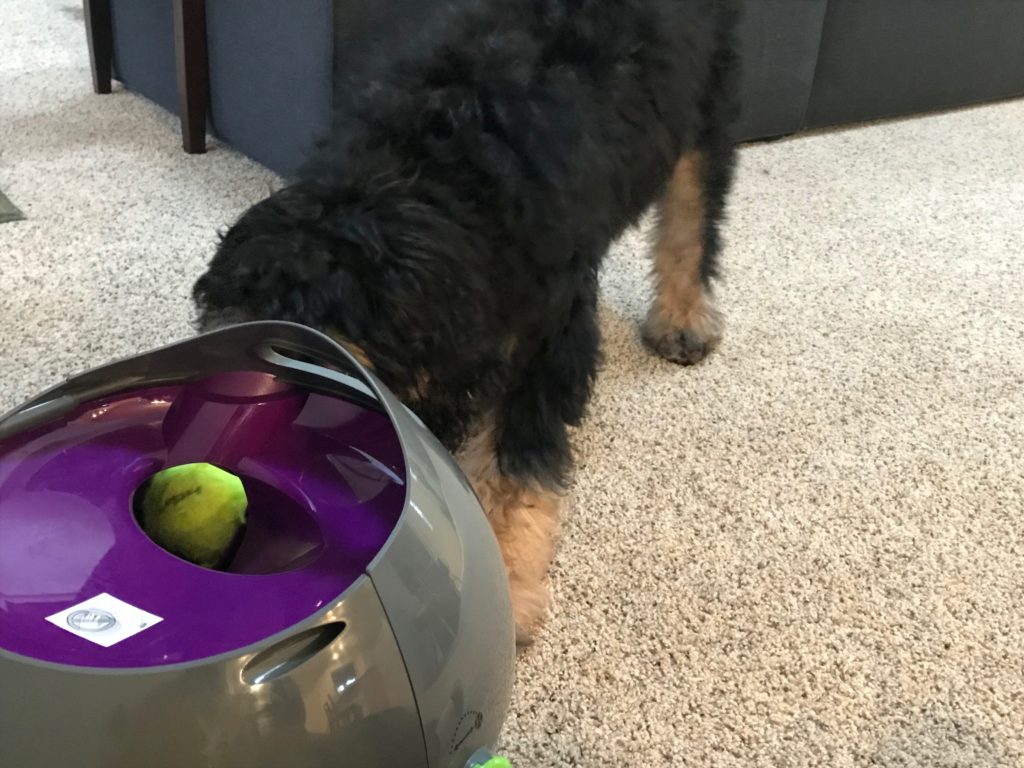 Possibly the biggest annoyance I'll lay out in this PetSafe automatic ball launcher review is that on occasion the device will just stop working.  I'm not sure if it overheats or what… but I'll put a ball in and nothing will happen.  I'll take the ball out, put it back in… nothing.  The only thing that seems to work is if I turn off the machine, wait about 30 seconds and then turn it back on and wait for a beep.  We play with the launcher every day and this happens a few times a week.
Petsafe Automatic Ball Launcher Review Bottom Line
It's for you if…
You are willing to put in time to train your dog to use it.  For most dogs, they're not going to know to put the ball in the launcher right away.  It may take time and persistence even just to get them to warm-up to the launcher.
You have enough space.  I think the minimum size space you need to use this is around 10′ x 25′.
Your dog can take a punch.  Of course not literally… but it's likely your dog may get hit by the ball a few times even despite the safety features.
It's NOT for you if…
Your dog is really small. The safety feature is nice but it doesn't work every time.  I can imagine that a small dog getting hit by the ball once might deter it from ever using the launcher again.
Your dog is easily scared by sudden noises.  The launcher makes quite a bit of noise so if you dog isn't fond of that, I'd skip this