Amazon Fresh Review, is it worth it?
When I saw that Amazon was offering grocery delivery I simply had to try it.  Now that I've had a handful of deliveries (I think 4?) and have been using it for about a month I think I've put in enough time to do an Amazon Fresh Review.

First off let's start with why I hate the grocery store:  The whole… snaking around other people who take up the entire aisle… forgetting something that was in aisle 2 when you're in aisle 10… waiting in line… and then trying frivolously to be the hulk and carry in all the bags in one trip (because let's be honest I can never do it).  It's just not my idea of fun.
I came into the Amazon Fresh game looking for it to replace something I hate.  It wouldn't be fair of me to create a review without letting you know I'm bring that bias to the table.
Skip to the TLDR (too long did not read) Amazon Fresh Review?
Quality
One of the things I was really worried about was the quality.  I imagined getting some eggs busted open or some rotten fruit.  So far that hasn't been the case.  Everything really has been fresh.  After thinking about it for awhile too, the stuff in the grocery store comes on a truck too so it's probably been through just about as much.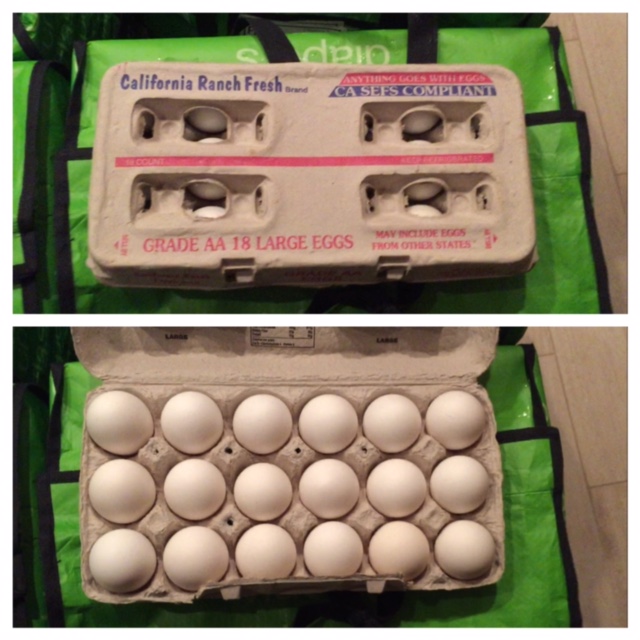 Selection
The selection so far is decent but nothing to call home about.  You're not going to be able to find every brand you love, but I imagine that will change over time if this really takes off.  So far, the new brands we've tried haven't disappointed us.  But if you're the type of person who sticks to your brands and doesn't like to deviate you can stop reading this Amazon Fresh review now and write off this service as 'not for you'.  At least not yet.
Cost
There is a monthly fee of  that's tacked onto this service but for me that's a wash.  As long as I spend over $40 each delivery is free and it saves me the hassle and gas of going to the grocery store.  You get a discount if you're an amazon prime member as well.
Deliveries
The deliveries pretty much as scheduled, although I did have one arrive about an hour or two late.  It wasn't a big deal for me at the time, but I can imagine if you were having milk delivered and couldn't stick around for the delay it could turn into a bad situation.  The totes do come insulated and with ice packs in them, but on a hot summer day, I don't know how long they'd be able to keep the food inside cool.
One thing that I really enjoy is that the deliveries come by USPS.  Not because I love USPS but because I know in the recent past there have been tons of layoffs and I like to know good people are getting work.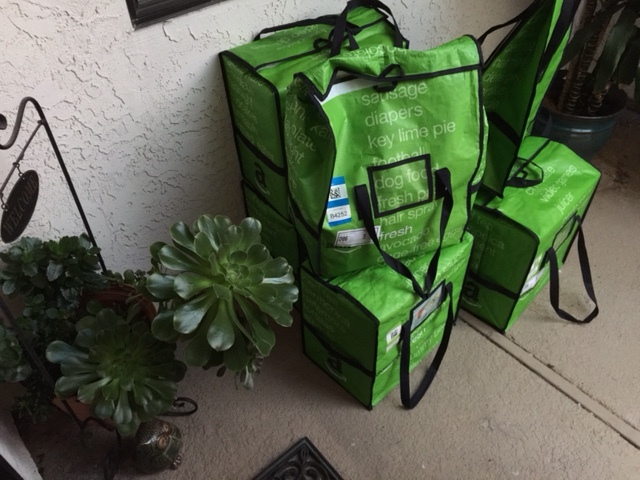 The totes
The totes are kind of cool.  They come in a cool green color and collapse so you can store them until your next delivery for pickup.  I tried putting the totes out not collapsed and the delivery guy wouldn't pick them up.  So if you're wondering, Why won't the mailman pickup my Amazon Fresh totes? Try collapsing them and putting them out.  You can collapse the totes and fit them inside each other to safe space and help out your mail carrier.
One thing that I dislike is the jumbo plastic bags they use that I end up throwing in the trash.  It just makes me feel really wasteful.  The same thing goes for all of the ice packs.  They won't pick them up.  I'm thinking of starting an elementary school first aid section of my house or something.

Amazon Fresh Review Overview
Overall I enjoy Amazon Fresh and think it's a viable solution to replace grocery shopping that will just get better with time.  To me, the added monthly fee is kind of a wash since you're having food hand delivered to your doorstep and not wasting money on gas going to the grocery store.  The food I've received has been good quality that includes vegetables, eggs, and meat.  The only downsides for me are having to store all of the green totes until your next delivery, and the lack of selection across brands.  If you dislike grocery shopping, are willing to set aside a little space for storing totes, and can stomach trying out some new brands I would certainly recommend this service.  Currently Amazon is offering a 30 day free trial so there's not much to lose. 4 out of 5 stars.
UPDATE:  Unfortunately Amazon stopped this service in our area which is a total heartbreaker.  We really grew to love this service over the year we used it.  Just beware that this may not be a permanent solution to your grocery shopping woes.   As a replacement, we started to use instacart.  Checkout my review of instacart here.